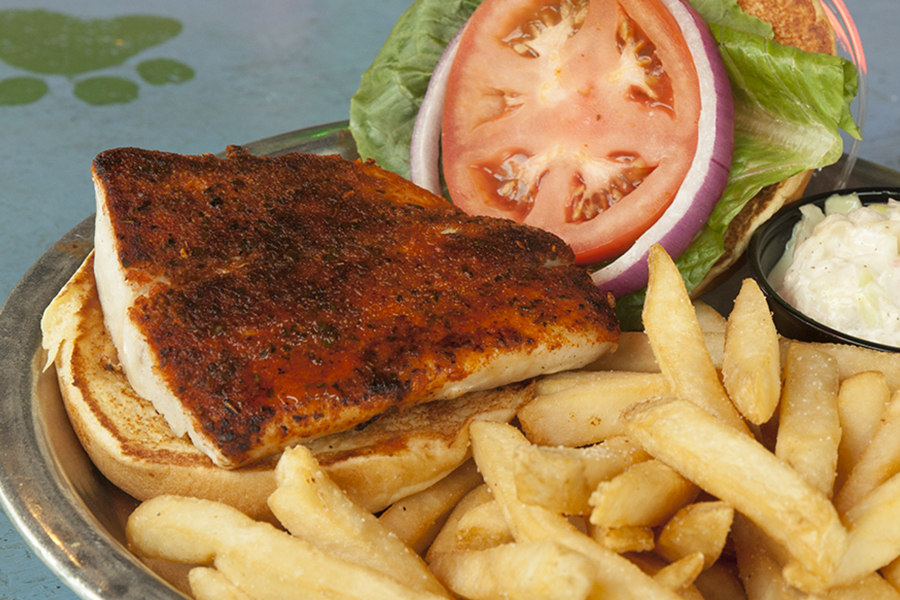 As an almost beachfront restaurant in a major tourist destination, we get a large number of questions about our menu. We are close to the ocean, but we are also a southern seafood restaurant, so we do things a bit different than some are used to. We make sure to showcase a wide variety of items on our social media pages (which you should really be following by the way), but it helps for us to lay out the options in a simpler more concise approach as well. This blog is devoted to the types of fish we feature on our menu.
We will start with flounder. A mild, yet slightly sweet fish with a delicate and fine texture with exceptionally low levels of oiliness and moisture. Flounder is very similar to halibut. Flounder is an extremely versatile fish. The first place you will find it on our menu is Bubba-wiches. Surrounded by lettuce, tomato, red onion, fried green tomato and toasted sourdough bread, this delicious sandwich features our lightly breaded, mouthwatering, fried flounder. You can also find it in several spots under the Big Dawg Platters section. You can order the fried flounder as its own platter where it is accompanied by fries, cole slaw and our homemade hushpuppies or you can pick it as one of the options for the First Mate's Platter or Captain's Platter. We are certain you will be happy with any selection.
Up next is grouper.  A fish with a very mild flavor, grouper is light, sweet-tasting, and is typically served in large chunky flakes. Grouper easily absorbs marinades and dressings and can be easily breaded and fried. At Bubba's Fish Shack you will find grouper in several different sections of the menu. Grouper is very popular as an appetizer. We lightly batter and fry them similar to a chicken finger and serve them with our homemade peach creole dipping sauce. Interested in a bit more than just an appetizer, order off the Bubba-Riffic Baskets section and get it with fries. We can make it as a sandwich where it is offered grilled, fried, or blackened and served with lettuce, tomato and red onion. Or you can order it as one of the many options of the Big Dawg Platter section of the menu. You could even add it to a salad!
Fried, grilled or blackened, the Mahi Mahi will make you say YUM! Similar to the fried flounder you can find this fish on both the Bubba-wiches and Big Dawg Platters sections of the menu, but also as an option for a salad topper. Mahi Mahi is an abundant ocean fish known for surface dwelling off-shore in temperate tropical and subtropical waters. Usually sold as a skinless fillet, Mahi Mahi has a sweet, mildly pronounced flavor making it one of the most popular in the world. The meat is very lean and is fairly firm in texture but not steak-like. It is also good for your body. Mahi Mahi is an excellent source of healthy, lean proteins and is rich in Niacin, Vitamin B12, Phosphorus and Selenium.
Last and certainly not least is our catfish. It is pretty safe to say that our guests love our catfish. It is not hard to understand why. Catfish is light, tastes phenomenal, goes well with many of the other items on our menu and you can even order it as an All You Can Eat platter. It has several health benefits, tastes great, and is an absolute favorite at Bubba's Fish Shack. We even devoted a whole blog to it in August 2020. You can read that here.
At Bubba's Fish Shack we have put a lot of effort into and are very proud of the diverse menu we have created. We focus on downhome, good ole southern seafood served up hot and fresh! It is important to us that we provide the perfect dining experience to every guest every day. We do that by providing high quality food with high quality customer service and we look forward to serving you very soon.
If you are interested in looking at our menu, check out here.