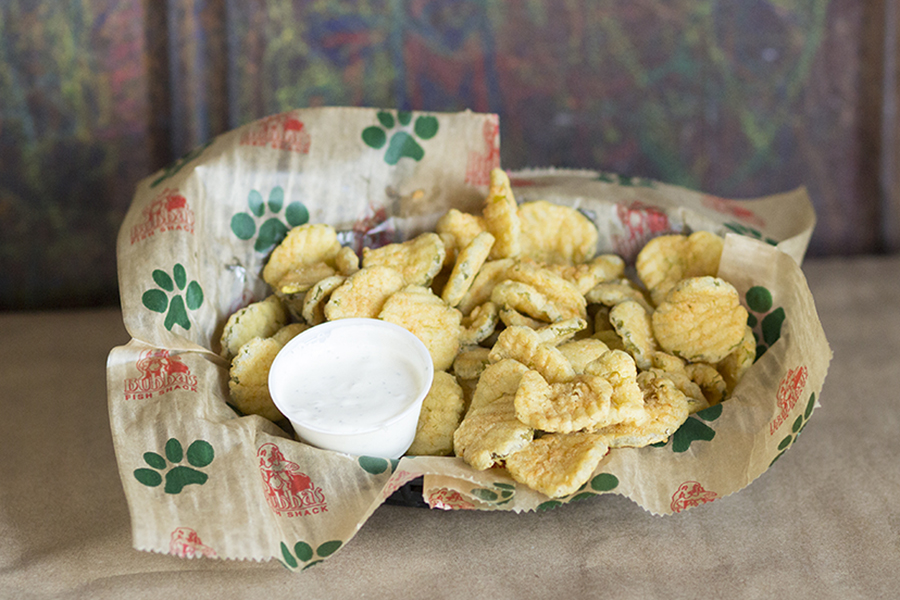 An absolute favorite of Bubba's Fish Shack guests, Pickle Nickels are something that garners smiles, happy palates, and social media attention quicker than anything else on our menu. We agree! The tangy pickles dipped in batter and fried till crispy that make you want to say "Yum" are just spectacular! But they don't just appear. This month let's explore Pickle Nickels and their humble origins.
Pickles start as cucumbers. The cucumber slowly becomes a pickle through a process called, wait for it…..pickling. This process has been around for more than 4000 years as a way to preserve a wide assortment of foods. Pickling ferments the food with beneficial bacteria for flavor and then preserves them in acidic brine so they stay good longer. Technically you can refer to any pickled food as a pickle, but in North America, we think mainly of pickled cucumbers.
These helpful bacteria are known as probiotics and are extremely important for gut health and fighting off diseases by boosting your immune system and can help reduce inflammation and allergies.
The process of proper pickling does require some training. Failure to pickle correctly can spoil the items you are trying to ferment. Instead of generating probiotics, you end up with bad bacteria. Your environment needs to be exceptionally clean and you need to pickle your items within 24 hours of harvest. There is a whole lot more to this process. We recommend you consider just buying pickles that have already been pickled.
There are all kinds of pickles, but which ones are best for fried pickles? You can use sweet pickles, but we prefer dill pickles. The frying process wraps them in a crispy golden brown breading and
slightly reduces the tartness.
At Bubba's Fish Shack we realize that most of you don't live right around the corner. A lot of our guests travel from out of state once or twice per year to visit with us. So we feel like it would be a community service if we provide you with a recipe to make this delicious treat at home. Now, we aren't going to give you our special recipe, because we want you to still come to visit us, but we can give you something pretty close and do the googling for you. So if I was looking up how to make Pickle Nickels at home on my own, this is the recipe I would follow.
Step 1. Heat ¾ of an inch of vegetable oil in a large skillet to a temperature of 375 degrees. Ideally, you would use a cast-iron if you have it available to you.
Step 2. In a wide but shallow bowl, mix flour, cornstarch, salt, black pepper, paprika, and garlic and onion powders.
Step 3. In a second wide but shallow bowl, whisk together the buttermilk and egg.
Step 4. Place about a quarter of the pickle slices in the buttermilk mixture and evenly coat with mixture. Using a slotted spoon, drain the pickles well and place them in the flour mixture. You will want to make sure the pickles get well coated with the flour mixture.
Step 5. Place the flour-coated pickles into the heated oil and fry until golden brown and crispy. This should take about 2 minutes.
Step 6. Using a clean slotted spoon or a spider, transfer the pickles to a paper towel-lined plate to dry.
Step 7. Repeat until all pickles are cooked.
Step 8. Enjoy! Serve them immediately with ranch dressing.
Ingredient list:
Vegetable Oil, for frying
2 cups all purpose flour
⅓ cup cornstarch
2 tsp. Kosher salt
5 tsp ground black pepper
½ tsp paprika
½ tsp garlic powder
½ tsp onion powder
1 cup buttermilk
1 egg
1 16 oz. jar dill pickle chips, drained and patted very dry.
Ranch dressing
We hope you enjoy this recipe, but don't enjoy it too much! We still want you to come to visit us when you are in town!
If you are interested in the rest of our menu items, check out our online menu here: https://bubbasfishshack.com/
Want to read more cool blog topics from Bubba's Fish Shack? Go here: https://bubbasfishshack.com/blog/